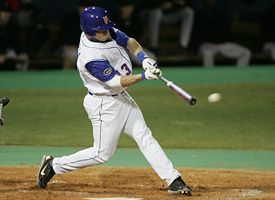 My last quick hits post was pretty much dedicated to pitching performances, so here are a few hitters that have posted note worthy performances over the past week.
Matt LaPorta

is hitting a cool .500 over 18 plate appearances, posting an OPS of 1.556 with 3 doubles, a triple, and a home run. More importantly, LaPorta has just 2 strikeouts, and has a line drive rate of 43%. For his career, anytime LaPorta is seeing the ball well enough to post a line drive rate of 19% or better, he's posted a slugging percentage of .576 or higher, with 31 doubles, 2 triples, and 30 home runs in 468 plate appearances. If his early results are any indicator, LaPorta might be headed towards some monstrous numbers over the coming months.

Josh Reddick

has a home run in 4 straight starts for Portland, and is hitting .381 with a slugging percentage of 1.048. With a fly ball rate of 43%, it seems Reddick might be undercutting the ball a bit more than necessary, but so far it's worked.


Mat Gamel

has picked up where he left off, collecting 4 doubles and 2 home runs in 26 plate appearances. His 1.526 OPS is second in the Pacific Coast League.

Buster Posey

is off to a great start, posting a walk to strikeout rate of 2:1 and hitting s double and 2 home runs in 27 plate appearances.

Cody Johnson

and

Freddie Freeman

are off to fast starts in the Carolina League, hitting 4 and 2 home runs respectively. Johnson also has 3 walks to go along with his 6 strikeouts.
In the Midwest League,

Brett Lawrie

is off to a good start, hitting a homer, double, and triple, with 3 walks and 4 strikeouts in 17 plate appearances.

18 year old

Zach Collier

has put up solid numbers so far, showing good power with 4 doubles and a triple, and excellent plate discipline with 4 walks in 22 plate appearances in the South Atlantic League.