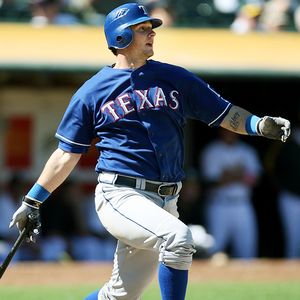 Recently, Baseball America ranked the
Texas Rangers farm system as the #1
system in the country. From top to bottom, the Rangers have loads of offense, great pitching, and defense to boot. It's an enviable position that teams around the nation would love to be in, but the Rangers are learning that, in the words of the ever insightful Notorious B.I.G., mo' money means mo' problems, and mo' talented prospects means someone has to ride the pine.

In 2008, Chris Davis rocketed up the ranks to dethrone Hank Blalock from the third base starting job, causing a minor disturbance in the balance between rising talent and established veterans. While no one is really sure if Davis will stay at third, move to first, or hit from the DH spot over the next few years, it looks like the scenario may repeat itself as the likes of Elvis Andrus, Justin Smoak, and Engel Beltre move through the minors.

Perhaps the first Rangers veteran player to be completely bumped by rookies is Gerald Laird, the 29 year old catcher that made $1.6 million last year and played in 95 games in '08 for Texas. However, unlike Blalock, Laird didn't have just one rising star to worry about -- he had three. Jarrod Saltalamacchia, Taylor Teagarden, and Max Ramirez are all very talented catchers hoping for a chance to start for the Rangers, and possibly nail down the job for good.

The Rangers, realizing that despite having 4 talented catchers to choose from, there was just no room to keep them all. In early December they sent Laird packing, and traded him for two pitching prospects. So, with Laird out of the picture, the Rangers are in the process of shopping around Teagarden, Salty, and Ramirez, hoping to pull in a few more young pitchers in return. So far, it doesn't look like a deal is imminent, but if the Rangers get a good offer, which catcher should they give up?

Here are each of the three catching prospects stats stacked up against one another.


Between the three, it's hard to say who has the better potential. Of course, Salty's power numbers are a bit lower, but he was also 2 years younger at AA, so his power potential is still comparable to Ramirez. Teagarden obviously has the most power, but his strikeout rate is considerably higher, so we can't really give him the top ranking. If we're going to establish any kind of order here, we've got to dig a bit deeper.

Here are each players offensive comparables I've found.


Looking at the comparables, I'm still not sure which catcher I would take.

So, let's look at what each comparable hitter did at the age of 25 at the major league level and see if that helps at all.


Based off of those numbers, I'd have to say it's a toss up between Salmon and Bay. Posada went on to have some great years with the Yankees, but early on in his career he just couldn't compete with the other two in terms of offense. Obviously, we can't assume that Teagarden, Ramirez, and Saltalamacchia will absolutely reflect the production of the three players above, but I think they could come pretty close given the right conditions.

Anyways, if we toss out Salty/Posada, now we've got to figure out if we're going to give Bay/Ramirez the top spot, or Salmon/Teagarden. Let's look at each players' production the following year and see who comes out on top.



Once again, it's a close call, but I think Salmon has the edge, putting Taylor Teargarden at the top of the pecking order. Once again, keep in mind that these numbers don't guarantee anything for Teagarden, Ramirez, and Saltalamacchia, but there are enough indicators to suggest that these numbers are pretty close and present reasonable projections for each.

If Teagarden performs similar to Tim Salmon over the next few years of his career, and Max Ramirez performs similar to Jason Bay, either catcher would easily outperform almost every other catcher in the major leagues in offensive terms. In 2008, Mike Napoli was the only catcher to post an OPS over .900, and there was not a single catcher that hit more than 23 home runs (although, Napoli hit 20 in just 262 plate appearances). Given a full season of 600 plate appearances, Teagarden and Ramirez both have the potential to be All-Star backstops.

If I had to make the call, I'd probably trade Teagarden since his value is a bit higher right now, keep Salty as the #2, and give the job to Ramirez for good. Then again, maybe I'd keep Teagarden, trade Salty, keep Ramirez in the minors one more year, then trade Teagarden at the end of '08. Either way, with 3 extremely talented catchers to choose from, I'll be interested to see which one the Rangers go with in 2009, and whether they give him the job outright, or set up a platoon system. Regardless of what happens, I think there's a good chance that Taylor Teagarden and Max Ramirez will be considered 2 of the top hitting catchers in the majors in a couple of years, and Saltalamacchia won't be far behind.

...Read more