This article originally appeared on Wax Heaven and has been slightly edited. With all the trade rumors surrounding the Mets, Johan Santana, and a Fernando Martinez, I think it's worth considering if trading Martinez for Santana is a good idea.

Fernando Martinez, the young Mets phenom from the Dominican Republic, recently finished up a more than adequate year at AA ball as an 18 year old. The Mets are confident enough in their young outfield prospects that this off season they traded away Lastings Milledge, who was one of the most promising prospects they've had in years (I know there were a lot of issues surrounding his character, but in usual Mets fashion they bought high and sold low with Milledge). A lot of things have been said about Martinez, who has been dubbed F-Mart for short, and here are just a few of the quotes I found regarding this young slugger:
"Martinez looks like a young Ted Williams." - Anonymous scout
"Fernandez has great posture for being so young." - Rafael Bournigal, Mets' director of international scouting
"What we saw in [Martinez] was a 16-year-old kid with power, great ability and great character, above everything else." - Omar Minaya
"The 18-year-old has that special something that causes the ball to crack off his bat in an unparalleled tone." - Adam Foster of projectprospect.com
Without having ever seen Martinez play in person, it's hard for me to know if any of these quotes are completely accurate. To be called a "young Ted Williams" seems to be a bit of a stretch since I seriously doubt that there are any scouts still living that saw Williams play in the late 1930's. However, all reports on F-Mart seem to be consistent with one another and it sounds like he's a good kid with a nice power stroke type swing. Listed at about 6′ 2″ and 190 lbs, he has a good build for his age and if it weren't for a BABIP of .200 at A+ in St. Lucie last year, F-Mart would have few doubters. He also recently had his season at AA ball cut short due to a hand injury that seemed to sap some of his power. Just from watching clips of him on YouTube, it looks like he has a nice quiet swing, but I think he often leaves too much weight on his back foot and as a result hits a lot of ground balls to the right side. If he learns to shift more of his weight forward I think his power numbers will improve.
Another important fact to point out is Martinez's splits against lefties and righties. In 2006, he posted a .349/.482/.831 stat line against righties and a .289/.350/.639 line against lefties. That's a fairly large disparity, especially when you consider that his BABIP against lefties was 80 points lower than his BABIP against righties and 9 of his 12 homeruns came against right handed pitchers. It's not an unusual problem for a young hitter to face, and I think his stats versus LHPs will increase with time, but his advancement through the minors and his success in the majors will problem depend on how quickly that adjustment occurs.
As far as comparisons go, Martinez is a special case. Since he's played through A and AA ball at such a young age, there are very few players that would provide accurate comparable stats to go by. F-Mart is the only player to have at least 100 at-bats in A+ ball that I could find, so that makes it very difficult to even begin a list of players to compare him to. Generally, we can expect a hitter that has played at AA by the age of 19 to reproduce those stats in the majors by the age of 22 or 23. As an example we'll take a look at B.J. Upton, Jose Reyes, and Juan Gonzalez: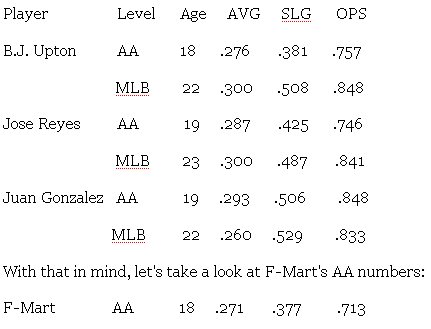 Of course these trends aren't 100% guaranteed, but they give us a rudimentary baseline projection system that can give us an idea of what to expect from a young hitter. We also might want to consider that Martinez was injured in 2007, so his stats at AA ball weren't as high as the possibly could have been. Taking that into consideration and applying his numbers to our trends to come up with a conservative projection for Martinez, we come up with something that looks like this:
There's always a chance that Martinez will hit a growth spurt or make an adjustment that will increase his production, but he's just as likely to flame out before he reaches the majors (see Andy Marte). If he stays on the projection course he's on now, then I can see him posting a slugging percentage close to .500 and an on-base of about .350 with a few 30+ homeruns season during the prime of his career. I've heard that he's fast and could steal a lot of bases, but his stats don't support that rumor, so until he develops that skill set I think most of his value will come from what he does at the plate.
F-Mart has a lot of up-side, so these projection numbers are very preliminary, but I think he fits in with guys like Felix Pie, Hanley Ramirez and Cameron Maybin. That's not a bad group to be in, but he's definitely not the next Ted Williams and that will certainly come as a huge disappointment to a lot of Mets fans. But he'll be a very good young player and should provide ample production wherever he ends up. Considering that Johan Santana will be signing a huge contract with whatever team he ends up with, trading him for a player like F-Mart with a few lesser prospects would be a fair trade I think. Unfortunately for the Mets, they don't have many more prospects beyond Martinez, Carlos Gomez and Deolis Guerra, so they would completely obliterate any hopes of furnishing their big league club with young, cheap talent for several years to come. As for the Twins side of the deal, they could either keep all those young prospects and work them in over the years, or turn around and trade them for more established players.

-Adam G.