Hey everybody, it's time for Spring Break (at least for me it is)! No tests, no studying, just sleeping, eating, watching baseball, and talking prospects! First things first, I want to throw out a list of the top pitching prospects out there right now. Some of them have already had their major league debut, while others are still working their way up.
There's a lot of good pitching prospects out there, but sometimes it's hard to really determine which ones are headed for major league success and which ones are going to be major busts. Injuries tend to put an end to a lot of pitchers' careers before they really ever get started, so that's always something that needs to be considered when compiling lists like this one. The other factor to keep in mind is ground ball rates, since those numbers are often overlooked but play a major role in the success of a young pitcher. Since there are so many prospects out there, I've decided to make a list of the top 20 instead of the top 10.
So, here we go...
1. Joba Chamberlain --
Some would put Clay Buchholz in this spot, while others would put Philip Hughes here, but when you combine Joba's K/9 rates with his high ground ball rates, his overall make-up puts him at the top of this list. He also had a very low BB/9 rate last year, and as long as he can maintain good control, he'll be special.
2. Philip Hughes --
Hughes isn't far behind Chamberlain, and these 2 young pitchers could become a legendary duo in New York. Hughes has as much talent as Chamberlain, but he doesn't share the same ground ball tendencies, which is why Hughes comes in at #2. If I had to choose any 2 young pitchers not named Felix Hernandez to start a team, I'd take Hughes and Chamberlain and wouldn't think twice about it.
3. Jaime Garcia --
I still don't understand why Garcia doesn't get any kind of recognition for what he's been able to do thus far in his career. He doesn't have the sexy K/9 numbers that other top prospects have, but with a ground ball rate over 60%, a K/9 of 8, and a BB/9 under 3, Garcia has the make-up of a very good pitcher. I wouldn't be surprised to see him put up numbers similar to Fausto Carmona in the next couple of years.
4. Andrew Miller --
Miller is another pitcher that doesn't put up big strikeout totals, but his ground ball rate is around 70%, making him one of the best ground ball pitchers out there. He won't get much publicity now that he's with the Marlins, but if you get a chance to see him pitch sometime, don't pass up the opportunity. He's already had a few rough starts in '08, but I think he'll be just fine once he makes a few adjustments.
5. David Price --
Price was a dominant college pitcher in a pretty good conference, so I think his abilities should translate to professional ball fairly well. He showed a lot of talent this spring, but an mild elbow injury has him out for about another month. The injury doesn't sound serious, but the Rays are more than willing to postpone his major league action if it means they save a few bucks (see Evan Longoria). Price should post similar numbers to Tim Lincecum, with fewer walks, and if he keeps the ball down he could be better than almost anyone on this list.
5. Brett Anderson --
The trade that Oakland made with Arizona this off-season was pure genius. Arizona got a decent pitcher in the prime of his career, while Oakland ran off with almost enough young talent to field an entire team. Anderson has a K/9 of about 9.5 and a BB/9 rate of 1.5, which makes him a very good prospect, but his 57% ground ball rate makes him a very special prospect.
6. Clay Buchholz --
I really wanted to put Buchholz higher on this list, but my gut instinct won't let me. He has tons of talent, and the Red Sox will give him a better early education than almost any other team, but his ceiling is a little bit lower than some of the other pitchers above him. He'll put up some great numbers, but he'll also get shelled on occasion until he learns to keep the ball on the ground more often.
7. Chris Volstad --
Another guy without the K/9 rates to make impress anyone, but he's got good control and makes hitters put the ball on the ground. He doesn't get much recognition playing for the Marlins, but he'll do well for himself.
8. Sean Gallagher --
The Cubs almost traded away Gallagher for Brian Friggin' Roberts this spring, and had they done so, they would've deserved to go without a World Series Championship for at least another decade. Gallagher wasn't great in the majors last year, but he has enough talent to be a solid #3 or #4 starter early, and possibly a #1 starter in his prime. I expect 10-15 wins a year very soon.
9. Nick Adenhardt --
Adenhart gets a lot of buzz from west coast prospect enthusiasts, and most of it is legit. He's come a long way since his surgery a few years ago, and he'll make a fine middle-of-the-rotation started in the next year or so. Good command and good stuff.
10. Jacob McGee --
McGee keeps getting better and better, and I think he could have a long and productive career, but right now he's got David Price, Jason Shields, Scott Kazmir, Matt Garza, and Wade Davis to contend with, just to name a few. McGee should have similar success to Yovani Gallardo (if Gallardo pitched in the AL East), but he needs to work on keeping the ball low, as well as developing secondary pitches.
11. Michael Bowden --
Bowden was cruising through the minors up until mid-summer last year, but he has a good track record and a great work ethic, so I think he'll bounce back this year and be poised for a 2009 call-up in Boston. He's still very young, and his style is a little unorthodox, but you can't argue with the results.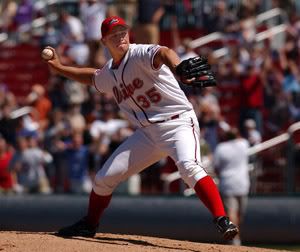 12. Gio Gonzalez --
After bouncing around between the White Sox and the Phillies, the Athletics traded for Gonzalez this off-season with the hopes that he'd bring some good mojo to go along with his nasty curveball. He has almost identical stats to Jacob McGee, but Gonzalez is just a bit older, thus the lower ranking. He should do pretty well out in Oakland, and put up some solid numbers very soon.
13. Clayton Kershaw --
Everybody wants to put Kershaw in with the top 10 prospects in all of baseball, but I don't think he's even a top 10 pitching prospect at the moment. He's got good stuff, and he misses a lot of bats, but most of it isn't on purpose. His control is all over the place at times, he doesn't have the ability to keep the ball down when he wants to, and major league hitters will catch up to him pretty quickly. He'll be about as good as Chad Billingsley, which is pretty good, but he's no King Felix, or even Matt Cain for that matter.
14. Justin Masterson --
Masterson has done pretty well for himself thus far in his career, but he seems destined to be a 2-pitch bullpen specialist. He has good control, but his real strength is in keeping the ball on the ground, and if he develops a solid third pitch, he could be a pretty good starter down the road.
15. Homer Bailey -- I've already done a big write-up on Bailey, but I think he was way over-hyped, and will be a Carlos Zambrano type in a few years. Not great, but pretty good.
16. Wade Davis -- I think Davis will be a pretty good starter or a great bullpen guy for years to come, but he won't be better than his teammate Jacob McGee. Lots of ability, but a low ceiling will limit Davis' success.
17. Franklin Morales -- The key to Morales' success is his high GB%. Playing for Colorado, Morales will live and die by his ability to keep the ball down, and I think he's very capable of doing so. Like all Rockies pitchers he'll get hammered occasionally, but he's a great addition to a very good, young team.
18. Brooks Brown -- I would like to see Brown have more success at higher levels before officially jumping on his bandwagon, but he's another great ground ball pitcher that will make substantial contributions to a young and talented team. He's Mike Pelfrey, only better and playing in Arizona.
19. Johnny Cueto -- Cueto has had some great early success this year, and I even added him to my fantasy baseball team, but I have some serious reservations about how long he'll last before major league hitters catch up to him. He has good stuff, good control, but can leave the ball up sometimes and that could be a substantial issue in Cincinnati. He'll put it all together in a few years and make a great #2 or even a #1 at times, but don't be fooled by his early numbers.
20. Jair Jurrjens -- I think the Braves got a great young pitcher in Jurrjens, and the immediate impact of Yunel Escobar helps ease the pain of seeing Edgar Renteria head to Detroit. Jurrjens is capable of winning 10+ games this year, and 15+ in a couple of years, and he's in a perfect position to learn from Tom Glavine, who exhibited a very similar skill-set and comparable numbers early in his career.
So there you have it, my top 20 pitcher prospects. I left off guys like Rick Porcello and Jarrod Parker simply because I have no clue what they're capable of, and there were of course a lot of pitchers that were on the border of making the top 20. A few months from now we'll see how the list looks.
-Adam G.